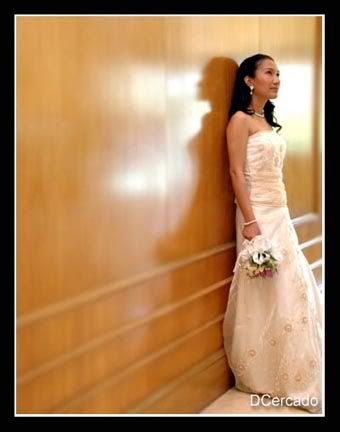 I just recently finished editing photographs from a recent wedding shoot. This is one photograph from the shoot (more pics at
my blog
and
portfolio
) which I really like.
I've been documenting weddings for two years now, and I try to approach every wedding in a different manner. Sometimes when one shoots commercially, he is tempted to apply tried and tested poses and styles, like a habit some veterans have. I avoid falling into this dilemma as it leads to the crippling of creative juices.
Before every wedding shoot, I spend the night looking at sample works I like from other photographers. The activity is akin to brainstorming and accumulating for ideas for the next day. But the reality is, the day itself stealthily arrests me of my temporary ideas (as weddings are of course fast paced), leaving mostly raw ability to work with. In the middle of that stupor, sometimes you get a string of intuitive ideas that leads to excellent photographs.
Only after you have pressed the shutter and the image is made, would you know that what brushed your mind was a fine idea after all.
(Note: "Camera-Shy" -- a.k.a. Daniel Cercado -- is a geology graduate at the University of the Philippines Diliman in Quezon City, Philippines. He currently works as a teacher at the Asian Seminary of Christian Ministries, and is a professional photographer on the side. You may read his mini biography of sorts by clicking here.)